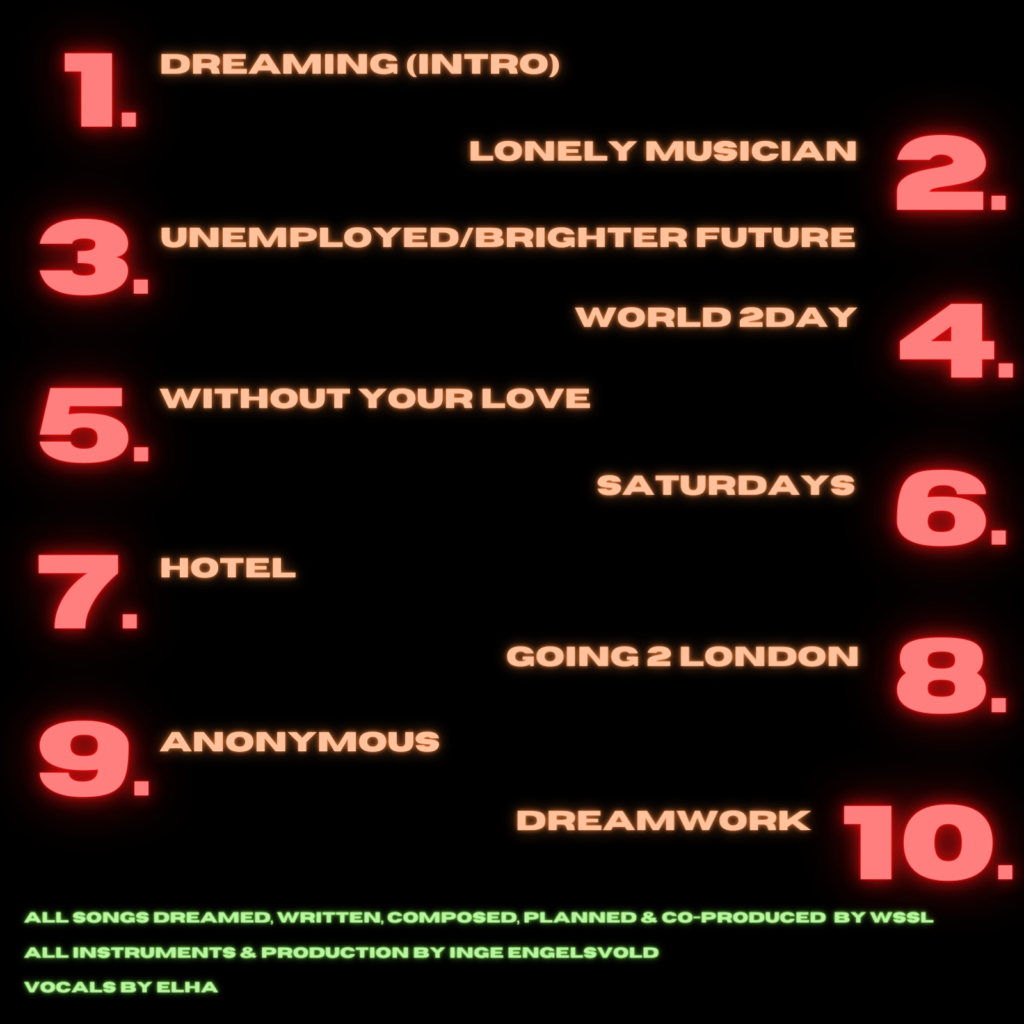 When I started to plan the Dreamwork album I originally thought about it as a 3 disc album with a total of 33 songs. The first compilation had these songs on it:
Disc 1:
On the floor
Good 4 me
World 2day
Without your love
Gimme your heart
Famous (4 the fame & money)
Lonely
I really wanna dance tonight
Far away
1001 nights
Midnight serenade
Disc 2:
Welcome U
Lonely musician
Greatest fantasy
Every little touch
Just say you'll stay with me
Pyton
Saturdays
Hotel
Anywhere in the world tonight
In love with you
Bad 2 da bone
Disc 3:
Summer
Anonymous
When I'm with you
London lover
Stay
You and me
Fun
Living for your touch
Norway
Ain´t nobody like you 
Sexy suit
Eventually, I thought that a 3-disc set was way over the top and decided to cut it down to a double album. I chose these songs for the new compilation:
Disc 1:
On the floor
Good 4 me
World 2day
Without your love
Gimme your heart
Famous (4 the fame & money)
Lonely
I really wanna dance tonight
Far away
1001 nights
Midnight serenade
Disc 2:
Welcome U
Lonely musician
Greatest fantasy
Just say you'll stay with me
Saturdays
Hotel
Summer
Anonymous
London lover
In love with you
Sexy suit
As the project started to get serious I realized that a double album would definitely be too expensive and decided I had to cut it down to one album consisting of 10 tracks. I selected the final track selection from the songs that were on the double album and put together an album with different kind of songs. This became the final Dreamwork album:
Track list:
Dreaming (intro)
Lonely musician
Unemployed/Brighter future
World 2day
Without your love
Saturdays
Hotel
Going 2 London
Anonymous
Dreamwork
There are several things that can be mentioned about the final track list on the Dreamwork album. First of all, track number 2, «Good 4 me», changed name to «Unemployed/Brighter future» during the album process when I was about to write the final lyrics for the songs. «London lover» also changed name and ended up with the new title «Going 2 London». The song «Dreamwork» is the only song that was not part of any early album configuration. That song was created later on and it was not until I was putting together the album and found out that I wanted an instrumental song on it as well that it was included. And because I wanted to call the album «Dreamwork» I thought it could be a suitable song title on this instrumental piece considering its dreamy and relaxing feel. The last thing worth mentioning is the album intro, «Dreaming». I got the idea that I really wanted a short instrumental album intro to get the album started. All I knew was that it should be some kind of synth intro but I had no idea what it should be. But one day I started to think about a song I had created earlier called «When we´re together» that was just laying around in my folder. That song was not a song that I thought was good enough to continue working on but I had created a synth hook that was going to go through the whole song that I really liked. And although I did not like the song itself I thought that this synth part was far too good to not be used for anything. So I decided to take this synth hook from another song, slow it down a little, and make that the album intro for the final album.
I started doing research on different producers in my home town to see if there was anyone I could find that wanted to take on a very special project like this. Because I can´t deny that working out from such poor demos that I deliver is a big challenge for both the producers and the vocalists I am working with, and I really have to make sure before we start that the producer knows what he has agreed to. Finding the right producer is so much more difficult than what it sounds like and I was very surprised myself how hard it would turn out to be. It has to be a producer that understands what you want, the producer has to be good at his craft and last but not least; we need to have a good chemistry and work well together. And when you are just Googling it´s very hard to know these things. First I found a producer that I thought would be a great fit for me and we set up a meeting at his studio. I brought along the three burned CDs with the instrumental demo sketches from my «Red Box» collection and we listened through the first disc together. I thought that he seemed very positive and he said he wanted to do a test song with me. We agreed to start working on the song «Gimme your heart» and we decided that I should come back the next week so that we could start working. Therefore, I left my three demo discs and lyrics at his studio because I was supposed to return very quickly. That was a mistake. Because after that meeting the producer just made himself unavailable. He did not answer any mails or text messages and I had to conclude that this project was dead. After this I felt really bad and I was sad and disappointed, especially because I thought the producer was very nice during the meeting and I felt we had a good chemistry – and I really believed that he wanted to work with me. After this I was very lukewarm to ever working with a music producer again. I actually thought more about trying to produce something myself, either by trying to play the best I could and end up with a very amateur product that could never be used for anything, or ask some musicians to play with me. Fortunately, after some time I started thinking more and more about the music project again and decided to give the thought of collaborating with a music producer again a new chance.
This time I contacted music producer and musician Inge Engelsvoll and that would turn out to be a perfect match. He listened to my poorly made demos and decided that he still could understand what I wanted and that it was possible to use them as the foundation of the productions. This was the big breakthrough for me and the project started up shortly after that. My original plan was to do an album inspired by Michael Jackson's «Dangerous» album – one of my all time favorite albums. That was also what I said in my info mail to the producer just before we were starting up. However, after thinking some more about it I changed my mind and decided I wanted to go in another direction. The reason is first of all that it´s extremely difficult to get a real Michael Jackson sound and feel that I think I would be satisfied with. The «New Jack Swing» production style that dominated the «Dangerous» album is also a style that is not done so much today. Instead I decided to go in a more dance/pop and electronic direction and use many different songs and musicians as references making it a mixed album, which I think was a good choice.
The working method that we used during the album project was this: I sent my logic project file of the songs to the producer along with one or more reference tracks so that he knew what kind of sound I wanted on the songs and which direction we were going in. I could also give him some written instructions in addition if there were things I needed to explain. He then worked on it and sent what he had done back to me. I then made comments to it and we kept sending it back and forth until the songs were as I wanted them to be. This way of working worked well for the producer and the positive thing about doing it this way is that he could choose when he had the time to work on it and do it in between his other projects. The negative side about this working method is that takes a lot of time, and the project therefore took a very long time to complete. However, to me the outcome is fantastic and I am very pleased with the work that the producer did on the album. He took my references and proved that he understood what I meant in my comments. The whole point, and the premise when we started working on the project, was that this was my project and I wanted to get my musical vision out the way I heard it in my head. I just needed someone else to help me do it when I did not have the skills to do it myself, and this was done perfectly. I can proudly say that The Dreamwork album has become what I wanted it to be and if you listen to my instrumental demos of the songs on the album on the website you can hear that the ideas, melodies and structure of the songs are the same – only done in a professional and much better way. It´s also worth mentioning that most of the songs on the album are very long and none of them have been edited down to radio versions. This has been an album project and not a single´s project all along and even though it would have been nice to have songs from the album played on the radio this has not been a priority.
There are several reasons I chose «Dreamwork» as the album title. First of all it feels like all my songs almost are created in a dream because they just come popping into my head without me sitting down to compose any melodies. So this way it feels like a «dream work» when it creates itself in mysterious ways. Second, I have always dreamed about making an album out of all of the songs I have been collecting from I was very young but it has always seemed like an unrealistic dream to me because of my lack of music skills. I can´t say how many years I have been dreaming about to one day do an album like this but I know that throughout all my years studying I knew that this is what I really wanted to do. So I think that Dreamwork is a very suitable title on an album that for so long has been just that – a work I have been dreaming about.
I am so happy to finally have a music album that I am so pleased with and that has become just the way I wanted it to be. And hopefully somebody out there will like the album as well 🙂